There are no ifs, and, or buts about the fact that working in a restaurant can be incredibly difficult and competitive. The restaurant industry has one of the highest startup failure rates (80%) in any sector. But those eateries that do manage to withstand this high-pressure gauntlet, emerge as diamonds.
You may find yourself wondering, "What happens next?" Some people think that building more of something is the solution.
Stay tuned if you've reached the stage at which you're ready to channel your inner Alexander the Great to develop your culinary empire, and on your journey to build a successful business we as commercial kitchen consultants can help you build a more effective and efficient restaurant.
Growth begins with introspection and prudence.
A successful debut into the restaurant business is no guarantee of continued prosperity with subsequent ventures. Many restaurants have failed at expanding because their owners falsely assumed that their success in one market guaranteed their continued success in another.
Numerous elements, some of which are one-of-a-kind, contribute to a place's development and prosperity, and these characteristics might not be present in other places. Not that you shouldn't aim for expansion, but rather that you should exercise caution.
You can't just hope things work out; you need a well-defined plan for growing your restaurant. That's why, before launching an expansion campaign, you need to conduct a thorough customer market study to verify the viability of your strategy.
1. Restaurant site and service modelling
2. Restaurant customer analysis
3. Market analysis
4. Restaurant sales cash flow modelling
5. Restaurant SWOT analysis
When you are ready to launch your company, these are the six steps to take.
Step 1: Decide what expansion looks like
Brands expand differently. Most restaurants choose between three courses:
Opening a new location is the first step to growth for many businesses. You want to add another location, possibly in the city or another state.
Opening numerous locations — Investors may have approached you with aspirations to dominate the local market or test the concept in other places. Naturally, opening more locations is harder.
Franchising the brand — Like Blaze Pizza or The Habit Burger Grill, some eateries think their concept can be replicated nationwide.
Step 2: Research a new location
Next, locate your second restaurant. Maybe you know the perfect spot. If so, move on.
If not, consider these things before choosing a new location.
Since restaurants rely on word-of-mouth, you should move to a place close enough to the initial location to maintain concentric overlap in the local population and customer base.
Step 3: Make a new plan for your business
After selecting a few good locations, create a business strategy.
You probably did this for the first restaurant. If the concept and menu don't change, the second location will have some overlap, making it easier. However, you must account for differences.
Build on the prior spot's success and explore fresh ideas.
Step 4: Funding
How will you fund expansion? Even the most successful restaurants may not produce enough profit to fund an expansion product. Then you need external funding.
Again, the second time should be easier. You'll likely have a company idea and a better idea of startup costs.
Regardless, you need to undertake a complete cost analysis to establish the total cost of expansion by accounting for expenses like obtaining the new premises, hiring people, marketing, purchasing equipment, etc.
After estimating capital needs, you can apply for SBA loans, commercial loans, or private investors.
5: Get permits and licences
You're probably well aware that starting a successful restaurant involves wading through a vast quantity of bureaucratic hoops. Get ready to jump through those hoops again, because you will.
Bear in mind that you cannot even think about opening your doors unless you have complied with all applicable local, state, and federal rules.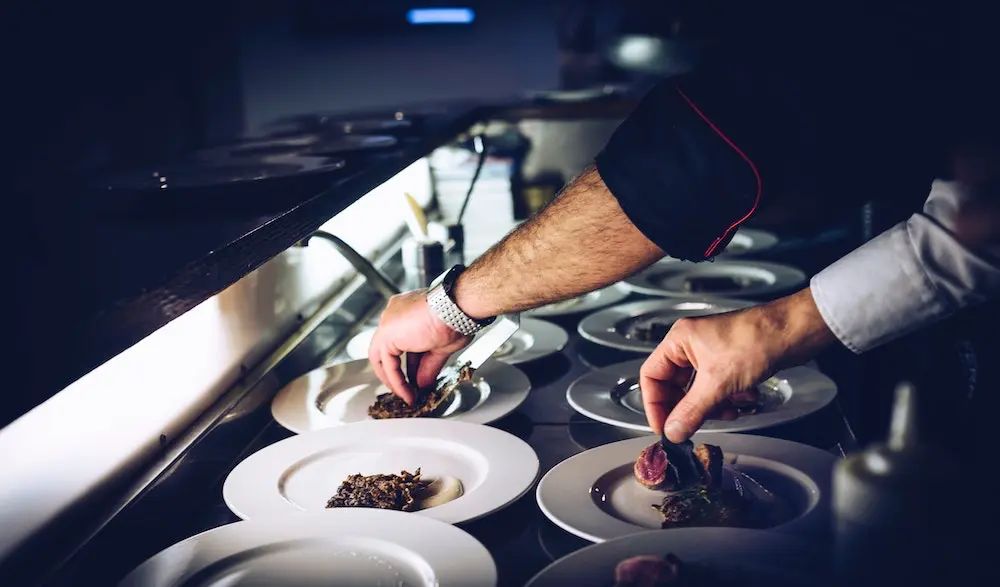 Step 6: Select a chef and menu.
A new location requires a crucial choice. Will you:
•Keep the menu but tweak it?
• Create a new menu with a few favourites?
Since clients will have expectations about your brand if the new restaurant has the same name, choose the first option. If people arrive anticipating their favourite foods and find a different menu, they may depart unsatisfied.
You can be more imaginative if the new restaurant is a spinoff of the old brand.
This will affect your head chef selection. They often collaborate with the owner to design the menu, adding their culinary flair. How much say will they have over the menu and food?