Equipment for Refrigeration
In a kitchen, there are two commercial reach-in refrigerators. The sort of refrigeration equipment you select will depend on the type of restaurant you operate and the commercial kitchen design with unique refrigeration requirements. However, the following are some examples that a typical restaurant might pick:
Walk-in coolers, reach-in refrigerators, pass-through models, and prep fridges are a few examples of typical refrigerator kinds. Your restaurant will probably need a blend of various types.
Freezers: Similar to refrigerators, freezers are available in a variety of sizes and designs to meet your needs and storage requirements.
Ice makers: Ice makers are a necessary part of any restaurant's beverage service. Additionally, ice may be used at cafes, bars, and supermarkets to create smoothies or mixed beverages.
Drink Dispensers Self-serve beverage dispensers may be found in some places, such as fast food and fast-casual restaurants, however, they may also be found at wait stations in other places. Consider how many different soft drink options you want to provide, as well as the soda brand, before selecting a dispenser. 
Storage Equipment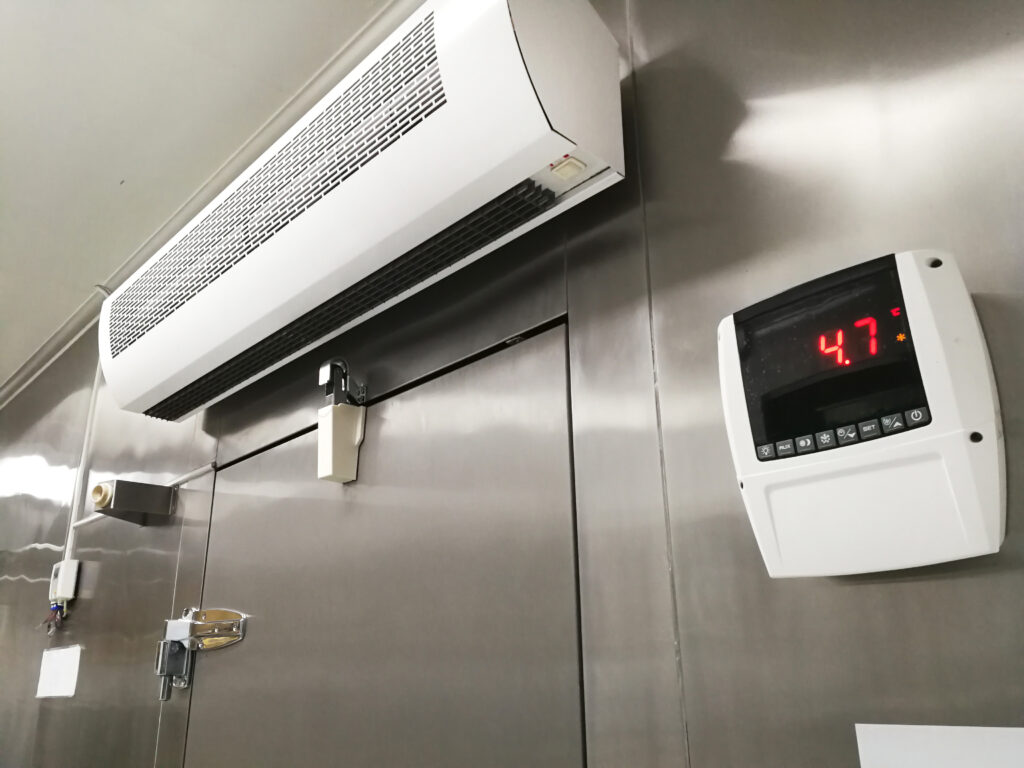 In a commercial kitchen, a movable sheet pan rack is empty. Every restaurant will require refrigeration in addition to equipment for ingredients storage, small wares, and equipment. You can typically find the following items of storage equipment at restaurants:
Shelving: You can use shelving to store a variety of foods in your walk-in cooler or freezer. Shelves can be used to store a variety of items, including pots, pans, dinnerware, dry goods, and more. You may tailor your shelving to your needs by choosing from a range of sizes and layouts.
Bussing and Utility Carts: Due to their usefulness, bussing and utility carts are a must in the kitchen. They can be used in the back of the house to move bulky ingredients or equipment, as well as in the front of the house to bus tables.
In addition to being used for holding and transporting food, sheet pan racks can also be used to hold and proof bread. Sheet pan racks have a tiny footprint and are made to be tall rather than wide, making them perfect for kitchens with limited space.
Food storage utensils: Food storage utensils are the ideal multifunctional tools. You can use them to mix up sauces and stocks, keep prepared ingredients, or hold dry components like pasta or rice. The best part is that a lot of food storage containers have colored lids or markings, allowing you to easily organize them by color-coding.
Drying Racks: Drying racks offer a location for storing and air-drying your equipment. Drying racks can be used to dry a variety of items, including cutlery, glasses, cookware, cutting boards, and utensils.
Dunnage Racks: Dunnage racks are used for drying equipment, much like drying racks, however, they are often only a few inches off the ground. They can be used for big objects like large pieces of machinery, sacks of rice, or canned products.
Additionally, take into account your menu plans and the volume of food you'll need to keep while furnishing your new kitchen with refrigeration and storage equipment. This will help you determine how many freezers, shelves, and refrigerators you'll need for your commercial kitchen.