Different Types of Commercial Kitchens
A successful commercial kitchen design depends to a large extent on foresight, what would a seamless and fully operational kitchen look like, and experience of executing such designs. The ability to visualize the execution of one's unique menu, a dry run, and anticipating roadblocks, is a must-do exercise for the commercial kitchen design team. This exercise is best done with inputs from the most critical team members – chefs, technical team, architects, management, design team and other key stakeholders, much in advance. Some ideas that one would want to focus on are:
What is the menu or cuisine; is it single or multiple cuisines and how many staff members would execute product creation?
What is the available space?
How would the process execution for each item on the menu look? Can we visualize the process through each of the kitchen stations, right from receiving the ingredients from a vendor to the pick- up point for the service team?
What kind of a restaurant/food business are we setting up – fine-dining/high-end, casual dining, fast-food, food truck?
How would a member of the service team execute his role? Where does he enter and exit the kitchen and what are his contact points?
Is the commercial kitchen going to be purely back-of-the-house or do we want to open it for viewing, to the customers?
What equipment is required for the desired menu and anticipated menu/cuisine alterations and how would I want them placed in the layout?
Will the station location be determined purely by work flow or is need for supervision an important factor?
The layout process can occur with two activities taking place simultaneously: a) Developing a single functional area/unit – comprising the prescribed equipment, work tables and sinks with attached units and b) Getting together all the functional areas to form one floor plan of the entire kitchen layout. This is a rough guideline and in reality, we see the process is also dependent on the kind of layout or type of commercial kitchen we are opting for. The layout of a kitchen concerns itself with four primary areas:
a) Materials and products – The products and materials used should facilitate production of food; the material used should be impervious, with minimal possible impact from moisture, dust, temperature and such factors and flexibility in layout is encouraged for future changes.
b) Machines and equipment – The foremost consideration is matching the process to the equipment placement in the layout; optimal use of equipment with consideration of using it for multiple purposes in the menu execution and finally, mobility of equipment, free access to equipment for maintenance and ventilation for equipment are all vital.
c) Workers and Movement– Safety of workers is paramount, followed by the opportunity for an interactive and smooth work flow, enabling supervision, wherever required. Elimination of hazards, adequate lighting, air flow and finally enough space per worker are all elementary factors. Maneuvering within the kitchen, for work execution, without potential risks or injury is a key point for consideration. Here we refer to movement of materials and workers.
A rough indication on amount of space allocated for each of the kitchen operations is as follows: a) 25% for food receiving and storage facilities; b) 40% for preparation, cooking and allied activities; c) 15% for utensil wash area and storage; d) 10% for Garbage facilities, janitorial stores, employee facilities and all back-office operations and e) 10% for pathways, aisles and service pick-up and drop off area. All the factors indicated above, have a vital role to play in a management's decision with respect to commercial kitchen layout or type of commercial kitchen. Any layout should keep in mind that a large commercial kitchen is divided into several sections: larder, sauce, roast, fish, vegetable, soup, any unique cuisine (say Indian), pastry sections and so on. The sections within a commercial kitchen could vary greatly based on the cuisine(s) served.
The broad principles on kitchen layout should include elaborate planning for (for details please see blog on Commercial Kitchen Design Standards):
Food Storage – all raw, semi-cooked and fully prepared food items should be kept at the right temperature. Apart from the main refrigeration areas, under-counter refrigeration is recommended, to avoid unnecessary movement within kitchen and to save time.
Food Preparation – Segregation of key activities to prevent cross-contamination is a major area of concern and kitchen layout should address this as a priority, before everything else. Separate sections for food categories and clearly designated preparation areas (work tables, preparation sinks, hand wash area, shelves and so on)
Cooking Area – Should be located in a way which enables the least amount of movement to and fro, from other work areas and ergonomics are an important consideration as well.
Service/Pick-up points – Should be located in a way which prevents access to any other work areas within the kitchen
Washing – The utensils and plate washing area should be placed away from the preparation, storage and cooking areas and must have easy access to racks for clean utensils
Catering to the diverse needs of commercial kitchens, several kitchen layouts can be seen in vogue. We provide a view of the most commonly used layouts suitable for different kinds of food businesses.
Assembly Line Layout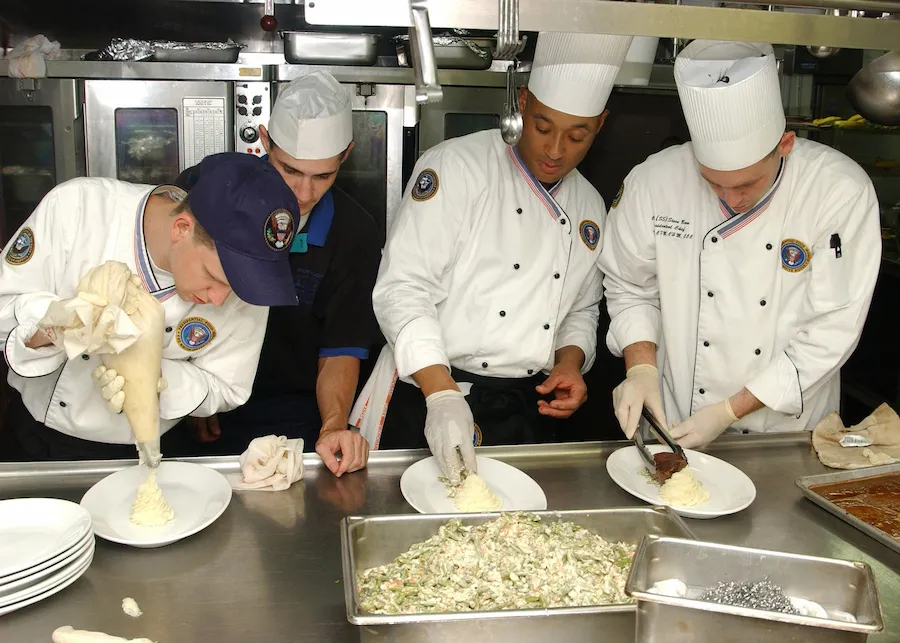 As the name suggests, the layout is guided by the food process. It is arranged in a streamlined way starting with the food preparation and leading to the pick-up point where an order can be collected. Very often one sees that this layout helps consumers to customize their meal as they move or where they can build their own bowl/dish. For example, start with the choice of bread; adding vegetables, sauces and other fillings and finally being toasted, heated and wrapped for serving. Ideally suited for large volume, limited menu set-ups such as pizzas, burgers, sandwiches and the like, it is seen commonly in fast-food restaurants. It is also common to view multiple cooks, each in-charge of a specific aspect of the food production process, in this type of a commercial kitchen layout.
Island Layout
In an Island layout one sees a central preparation or cooking station. Along the boundaries, we see storage units and cabinets, preparation areas, sinks; while at the center is the cooking range/equipment. In such a layout, other standard sections in a kitchen, such as dishwashing, inventory storage, food preparation and service pick-ups are placed on the periphery. This layout particularly facilitates interaction, communication and supervision. Ample back-of-house space and need for greater supervision can prompt one to adopt this particular layout.
Zone Style Layout
A style particularly useful for a) prevention of cross-contamination due to improper placement of various functions and facilities and b) large-scale kitchen operations, with vast staff, is the zoning style. There are separate zones for each of the activities or category of dishes prepared. For example, separate stations for soups and salads; meat; poultry; vegetables; meat; desserts; baking and so on. Simultaneous preparation of dishes is facilitated in this type of layout; which is a must-have facility in a large commercial kitchen found in restaurants with diverse menus, hotel restaurants and catering kitchens. Along with the Island layout, this layout requires considerable space as well.
Galley Layout
Found in tight space scenarios; one finds all the equipment and stations along one end of the kitchen space, along the wall. This layout is normally found in food trucks.
Open Kitchen Layout
An interesting and engaging layout for consumers as well, with one end of the kitchen open to the dining area. The customer enjoys the experience of viewing the kitchen activities, placing a considerable level of expectations on kitchen staff on parameters such as kitchen and personal hygiene and cleanliness. The concept can add an element of fun for all, with kitchen staff getting an opportunity to showcase their culinary skills. There is often a glass partition between the kitchen and dining area to maintain the required sanitation levels in the kitchen. While it is popular in fine dining restaurants, it could also be distracting for consumers who may be exposed to the heat and noise from the kitchen, if not properly designed.
Open Vs Closed Kitchen Layout
There is a growing concern about food safety, prompted by a more stringent regulatory framework. Cases of food poisoning and similar events can unfortunately occur. To provide a safer environment for food production as well as consumption (in the restaurant), kitchen design and layout is being given ample importance. Foodservice consultants and kitchen design and layout specialists are highly sought after to ensure that basic standards are adhered to, along with sharing best practices from across the industry. We also see considerable research on an open versus closed kitchen layout for this reason. Open kitchens can be a source of engagement and entertainment in some cases. A case being, Japanese chefs preparing sushi, adding much excitement to the process of delivering food. An open kitchen seeks to capitalize on a unique positioning of: entertainment; addressing hygiene concerns of the customers and also enhancing the restaurant's décor through the open view. In general, research reveals that restaurant operators (who operated closed as well as open kitchens) themselves believed that open kitchens are cleaner, as they have an inside view of operations. Staff behaviour was modified, displaying greater discipline in cleanliness and hygiene and there is always a sense of being watched or heard, leading to better outcomes on food delivery standards.
While there are disadvantages of an open kitchen as well, such as distracting the staff from the main focus, which is to get the best quality food on the plate, in general most restaurant operators interviewed for a research paper, revealed that the advantages outweighed the disadvantages. We have already shared some best practices on the preferable kitchen layout based on the kind of food business and believe the decision with regard to closed versus open kitchen layout should be made by keeping all factors mentioned, in mind.
Overall, there are a whole host of factors to consider while designing a commercial kitchen and opting for a particular kitchen layout. Rules and regulations of the local statutory authority; budget constraints and management philosophy are some other points of consideration. It is best to take a comprehensive view, involving all key stakeholders before embarking on the critical task of designing a commercial kitchen and identifying the best kitchen layout!